I think I enjoy this fanmix more than any other I've ever made. Ooh, scary.
Moving on.
No I haven't taken leave of my senses. Yes, this entire mix is instrumental.
I set myself a challenge to select songs for their feel rather than their lyrics. I think it turned out rather well, actually.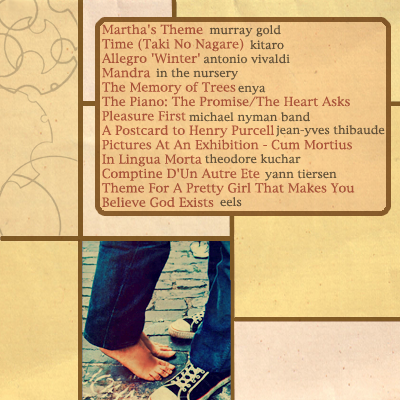 Martha's instrumental playlist - if she had one - on her time with the Doctor, the year that never was, and becoming a Doctor herself.

Martha's Theme - Murray Gold

THE DOCTOR:
Very good point! Brilliant, in fact. What was your name?
MARTHA:
Martha.

MARTHA:
Who are you, then?
THE DOCTOR:
I'm the Doctor.
MARTHA:
Me too, if I can pass my exams. What is it, then, Doctor Smith?
THE DOCTOR:
Just the Doctor.
MARTHA:
How do you mean, just the Doctor?
THE DOCTOR:
Just... the Doctor.
MARTHA:
What, people call you 'the Doctor'?
THE DOCTOR:
Yeah.
MARTHA:
Well, I'm not. As far as I'm concerned, you've got to earn that title.


Time (Taki No Nagare) - Kitaro

MARTHA:
Oh no, no. (Martha turns heel and dashes back out as the Doctor waits inside, a look on his face as if he's heard this too many times before) But... it's just a box! (Martha runs around the ship, inspecting its smaller outside dimensions) But it's huge! (she comes back to peer at the Doctor) How does it do that? It's wood! It's like a box with that room just crammed in. It's... (The Doctor mouths the next few words along with her) bigger on the inside!

(Martha is riding a bike towards an old stone barn near the wood. Pushing open the door, she smiles as she enters. Reaching around her neck, she withdraws something on a long chain round her neck- a TARDIS key, as the TARDIS itself stands further inside the barn. Martha unlocks the door and goes in- the console room is mostly in darkness.)
MARTHA:
(she smiles) Hello. (shakes her head) I'm talking to a machine...


Allegro 'Winter' - Antonio Vivaldi

JOHN SMITH:
Why does he need you?
MARTHA:
Because he's lonely.

MARTHA:
You need to be careful. 'Cause you know the Doctor, he's wonderful, he's brilliant, but he's like fire -- stand to close and people get burned.


Mandra - In The Nursery

THE MASTER:
They say Martha Jones has come back home, now why would she do that?
THE DOCTOR:
(Quietly) Leave her alone.


The Memory Of Trees - Enya

TOM:
You're a bit of a legend.
MARTHA:
What does the legend say?
TOM:
That you sailed the Atlantic, walked across America. That you're the only person to get out of Japan alive. 'Martha Jones', they say, 'She's gonna save the world.' Bit late for that.

MARTHA:
Do you wanna know what I was doing, travelling the world?
THE MASTER:
(exasperated) Tell me.
MARTHA:
I was telling a story, that's all. No weapons, just words. I did just what The Doctor said. I went across the continents, all on my own, and everywhere I went I found the people and I told them my story... I told them about the Doctor... And I told them to pass it on. To spread the word so that every one would know about the Doctor.


The Piano: The Promise/The Heart Asks Pleasure First - Michael Nyman Band

THE DOCTOR:
Thank you. (hugs her) Martha Jones, you saved the world.
MARTHA:
Yes, I did. I spent a lot of time with you thinking I was second best. But you know what? I am good.

MARTHA:
Keep that. 'Cause I'm not having you disappear. If that rings, when that rings, you better come running. Got it?
THE DOCTOR:
Got it.
MARTHA:
I'll see you again, mister. (smiles and leaves)


A Letter To Henry Purcell - Jean-Yves Thibaude

THE DOCTOR:
You're qualified now? You're a proper doctor.
MARTHA:
UNIT rushed it through, given my experience in the field.


Pictures At An Exhibition - Cum Mortius In Lingua Morta - Theodore Kuchar

THE DOCTOR:
How's the family?
MARTHA:
You know. Not so bad. Recovering.

DONNA:
(to The Doctor) Is that what you did to her, turned her into a soldier?


Comptine D'Un Autre Ete - Yann Tiersen

DONNA:
So! You gonna come with us? We're not exactly short of space.
MARTHA:
Oh, I have missed all this, but, you know. I'm good here. Back at home. And I'm better for having been away. Besides, (she shows her engagement ring) someone needs me. Never mind the universe, I've got a great big world of my own now!


Theme For A Pretty Girl That Makes You Believe God Exists - Eels

THE DOCTOR:
Okay. (He nods his head at the TARDIS.)
MARTHA:
Oh, thank you! Thank you! (She hugs him and laughs.)
THE DOCTOR:
Well, you were never really just a passenger, were you?




- Comments are like crack. Feed my addiction!
- Hotlinking is bad. Please don't do it. It kills my bandwidth.